Boer Goats
American Boer Goats
The American Boer Goat is one of the hardiest of all livestock breeds. Bred for dominance, it has a high resistance to disease, adapts well to various climates and terrains and has outstanding size and rate of growth. The Boer goat reaches puberty early, and with proper care, is able to kid every eight months. It also has a high percentage of multiple births. Furthermore, the Boer goat maintains economic production for ten years or longer. These characteristics, combined with the market potential of Boer goat products, have stimulated unprecedented interest in the goat industry.
History of the American Boer Goat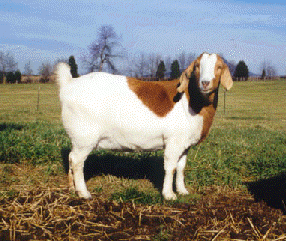 The breeding for today's American Boer Goat began in the early twentieth century in South Africa with a group of ranchers who made it their goal to breed the world's best goat. Through decades of selective breeding, the Boer gained its genetic superiority and nobility. In 1959, the South Africans formed the world's first Boer Goat Breeders' Association, and from that time on the Boer goat has distinguished itself as a unique breed of livestock.
Most of the Boers found in the United States today were imported from South Africa via a quarantine stop in New Zealand. While in New Zealand, the goats prospered under fertile climate conditions that were different from the dry range of South Africa, proving the Boer goat's adaptability.
In 1993, the first Boers were brought to America by stockmen with a vision – to see the Boer goat affect the growing goat meat market in the United States and in the world. From the southern tip of the African continent to the ranches of America, this goat has seen only a portion of the world that awaits it.
Boer Breed Standards
In describing the traits which constitute "standards" for the American Boer goat, we are leaning heavily on the standards which evolved during the development of this breed over the past 70 years in South Africa. The south Africans developed standards explicitly to improve the breed. The South African Boer goat is a recognized breed in its country of origin, and experts throughout the world consider this to be the premier breed of meat goat.
Head:

A prominent, strong head with brown eyes and a gentle appearance. Nose with a gentle curve, wide nostrils, and well formed mouth with well opposed jaws. Horns should be strong, of moderate length, positioned well apart, and have a gradual backward curve before turning outward symmetrically. Ears should be broad, smooth, of medium length and hang downwards.

Neck & Forequarters:

Neck of moderate length and in proportion with body length. Forequarters full, well fleshed and limbs well jointed and smoothly blended. Breast should be broad with a deep brisket. Shoulders should be fleshy and legs proportional and strong.

Body:

Body should be long, deep and broad. Ribs must be well sprung and muscled. Loins should be well muscled, wide and long. The top line should be straight and the shoulders well rounded.

Hindquarters:

Rump broad and long, with a gently slope. Britch and thighs well muscled and rounded. Tail should be centered, straight and curve upwards to one side. Legs should have a straight axis from the hip to the hock.

Skin & Covering:

Skin should be loose and supple, with sufficient folds over the neck and chest, especially in bucks. Hairless around the anus. Short glossy hair is desirable.

Source: American Boer Goat Association, P.O. Box 248, Whitewright, Texas 75491
Photos: Molly, a boer doe owned by Twin Creek Farm. Photo courtesy of Jes Johnson.
---
National Breed Club
American Boer Goat Association
Bruce Lott, Executive Secretary
232 W Beauregard, Suite 104
San Angelo, TX 76903
(915) 486-abga (2242)
(915) 486-boer (2637) fax
info@abga.org
We are your association, dedicated to promoting and enhancing your experience and enjoyment of Boer goat breeding and husbandry. This website provides all the resources, or connections to them, that you will need to successfully raise and show the finest breed of meat goat in America today – The American Boer Goat.
---
Visit our Breeds & Breeding forum section and our processing section!